Posted by Michael Mortimer on 13th Nov 2013

Aberlour, in the North East of Scotland has been the home of Walkers Shortbread for over 100 years. Nestled in the valley of the river Spey famous for its fishing, hunting and whisky, the Walker family have been making shortbread here from an unchanged recipe since 1898.
Walker's life in Aberlour started when Joseph Walker set up his bakers shop at number 99 High Street providing bakery goods for the local area. At the time, Speyside was a popular destination for shooting and fishing parties who would often return home laden with gifts of Walkers shortbread packed into tartan tins. It was these early visitors to the area that helped Walkers establish a name and soon there was a growing demand both at home and abroad. 115 years later, you don't have to go all the way to Aberlour to buy your favourite Walkers shortbread fingers. All products are available to buy online from Walkers brand new shop.
Walkers could not ask to be in a more beautiful, unspoiled and natural location. They have always found that Aberlour was the perfect place for making the finest shortbread in the world. Despite being a tiny community Speyside is world famous due to the whisky industry and is also one of the biggest exporting regions of Scotland. It is known as the golden triangle of Scotland, with many successful businesses also benefiting from this location, Baxters, Johnstons and local distilleries such as Aberlour, Macallan, Glenfiddich and Glenfarclas, are to name but a few.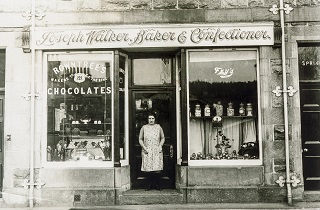 In the beginning the unique location of Aberlour helped Walkers grow to be what it is today and in turn Walkers is helping Aberlour grow by providing employment for the local community. From modest beginnings of a small village bakery, Walkers have grown to where they are now: 3 large bakeries in Aberlour, with a further 2 bakeries in the nearby town of Elgin. This doesn't mean however, that they would ever forget where it all started and the original village bakery shop still sells the complete product range. If you are visiting Speyside (and we strongly recommend you do) you can still pop in to the original bakery and take home a piece of history with you.