Posted by Michael Mortimer on 18th Nov 2015
Walkers is much more than The World's Finest Shortbread – we also make some of the best traditional cakes in the world! With quality ingredients, Scottish heritage and our dedication to creating the very best, our range of traditional cakes is popular across the world. These important Scottish cakes all have a long history and centuries of expertise steeped in each and every recipe. Is your favourite the Dundee Cake, Ecclefechan tarts or a rich Whisky cake?
Dundee Cake
Dundee cake is one of the most famous cakes in Scottish baking traditions. It was first commercially developed in Dundee on the Scottish east coast in the early 1800s, but the cake has roots more than 350 years ago. Today, Dundee cake remains one of the most popular Scottish food and drink specialties – alongside shortbread, whisky and black pudding. It is said that the cake was originally made for Mary Queen of Scots in the 16th century. Legend has it that she didn't like cherries, which were traditional in fruit cakes at the time. Local bakers made a version with almonds instead of cherries, decorating the top in a beautiful fashion with concentric circles of almonds. It became a Dundee favourite, hand baked by those wanting to serve up the finest cake with luxurious, rich ingredients. This happened in the early nineteenth century, and the cake soon spread to other bakeries across Scotland. Our own delicious Walkers Dundee Cake is still made with only the finest ingredients. As a traditional Dundee cake befits, it is filled with moist raisins, tart orange peel, exotic nutmeg and a generous portion of almonds. You can buy our Dundee cake in a Luxury Box Dundee Slab Cake, with individually wrapped cake. The slightly smaller Dundee Slab cake, which is also a light, crumbly and delicious comes perfectly packed for everyday use. Taste the tradition with our Dundee cake today!
Whisky Cake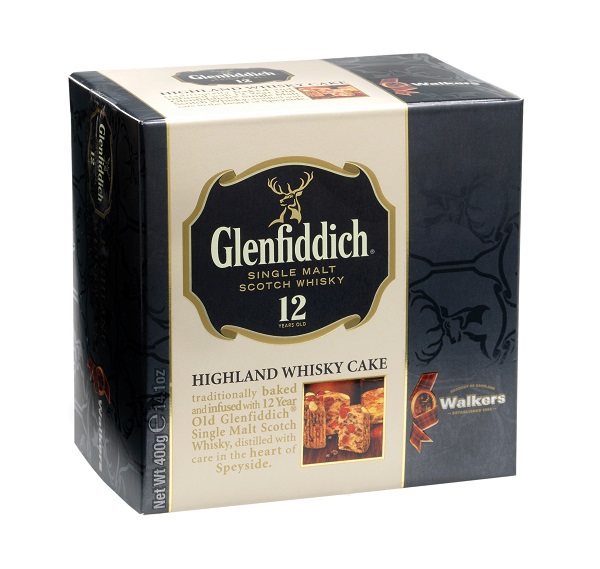 Fruitcakes are popular in the UK, and a particular Scottish twist is the whisky cake – a rich fruitcake with the opulent taste of Scottish finest single malt. Baking with alcohol isn't new – whisky, rum and cognac have been used to flavor and preserve baking for centuries. During baking at high temperatures, most of the alcohol evaporates, but the rounded, delicious taste of expertly distilled whisky still remains, creating a decadent and lavish treat. Walkers Glenfiddich Highland Whisky Cake is created with one of our favourite whiskies from the Highlands: 12 year old Glenfiddich. It is made at our Aberlour factory, and packed in a beautiful and unique tin, making it a gorgeous present. There is also a smaller version available, the 400g Boxed Glenfiddich Whisky Cake, which is just as delicious if you don't need the full sized cake. (But trust us – it would get eaten!)
Ecclefechan Tarts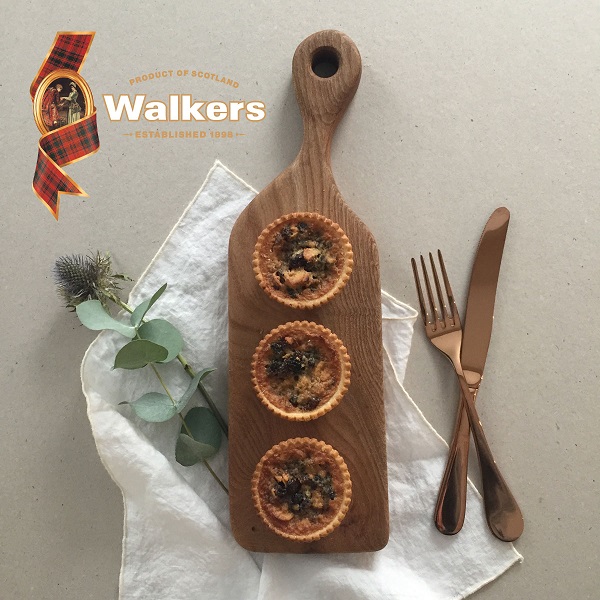 These beautiful butter tarts are maybe hard to pronounce, but they are easy to enjoy! Ecclefechan Tarts come from a small town of the same name in the Scottish Borders. In our Ecclefechan Tarts, encased in beautiful all-butter pastry, you'll find a light and tempting flavor due to the rich mixture of sultanas, cherries, almonds and citrus fruits. This is expertly blended with butter and egg to create a rich, traditional tart famous all over Scotland – but maybe not so well-known in the rest of the world yet. If you like mince pies, you're going to love Ecclefechan Tarts, so why not order some today and introduce friends and family to a new favourite?